Baron Reed
Professor
Ph.D. Brown University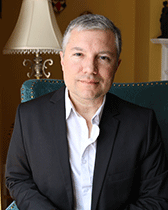 Baron Reed specializes in epistemology and has research and teaching interests in both ancient and early modern philosophy as well as metaphysics. His recent research focuses on skepticism, the relevance of practical interests to knowledge, epistemic norms, epistemic agency, and epistemic psychology.
Selection of Recent and Forthcoming Publications:
Skepticism: From Antiquity to the Present, co-edited with D. Machuca (2018), Bloomsbury.
"Practical Interests and Reasons for Belief," in Normativity: Epistemic and Practical (2018), Oxford University Press.
"Who Knows?" in Performance Epistemology (2016), Oxford University Press.
"Skepticism and Perception," in Oxford Handbook of Philosophy of Perception (2015), Oxford University Press.
"Fallibilism, Epistemic Possibility, and Epistemic Agency," Philosophical Issues 23 (2013): 40–69.
"Knowledge, Doubt, and Circularity," Synthese 188 (2012): 273–287.
"A Defense of Stable Invariantism," Noûs 44 (2010): 224–244.