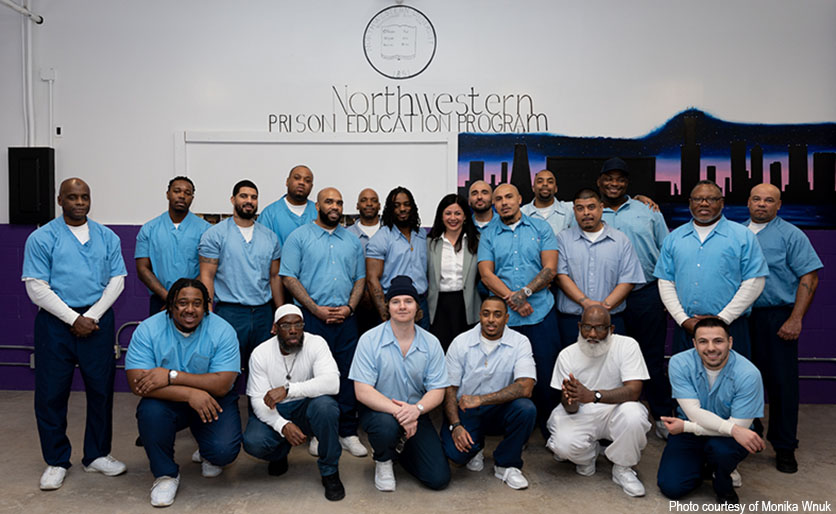 Northwestern Prison Education Program
Northwestern Prison Education Program Update
Since celebrating NPEP's first and second cohorts as they graduated with their associate degrees from Oakton College last year at Stateville Correctional Center, there has been no shortage of events at NPEP.
Most notably, NPEP welcomed 45 new students to our program as a part of our third and fourth cohorts. Close to 400 people applied to be a part of these new cohorts from prisons across Illinois, which is the most applications NPEP has ever received — and the first time we've opened admissions statewide. These new students are joining a community of scholars who lift up each other's voices and work every day to create a better world for themselves, for their loved ones, and for society as a whole.

In addition, we launched our new Justice Fellows Program, which accepts five individuals who have been directly impacted by the criminal legal system for a one-year term of leadership in our program. Justice Fellows are given opportunities to draw upon their lived experiences and expertise to inform NPEP's work. Two of our Fellows, Maria Garza and Broderick Hollins, are current NPEP students who have continued to pursue their education since returning home.
We have also welcomed two new full-time hires as well: Josias Escobedo, our new program coordinator; and Colin Hanner, our writer and media relations coordinator, are assisting in helping to grow awareness and communication around NPEP.
As we enter the start of a new academic year, we're delighted with the tremendous progress we've made in just the last year alone. But we still have much to look forward to: On November 15, NPEP's first cohort of students will graduate with their bachelor's degrees from Northwestern University — the first time in history that incarcerated students will receive a bachelor's degree from a top 10 university.
Stay in touch with NPEP by subscribing to our newsletter and following us on Instagram, Facebook, or X (formerly Twitter).