NUSTEP
The Northwestern Society for the Theory of Ethics and Politics (NUSTEP) hosts an annual spring conference in moral and political philosophy.  We are proud that the conference has an established reputation as a constructive and collegial event addressing some of the most difficult and important questions of moral and political philosophy.  The three-day conference features two invited keynote addresses and submitted papers by both faculty and graduate students as well as ample time for informal discussion. This year the conference will be take place on June 1 - 3, 2023 at Northwestern University in Evanston .
2023 Keynote Addresses:
Michele Moody-Adams (Columbia University)
Arthur Ripstein (Univeristy of Toronto)
Conference Program:
Submission Guidelines
The deadline for submissions is February 15, 2023.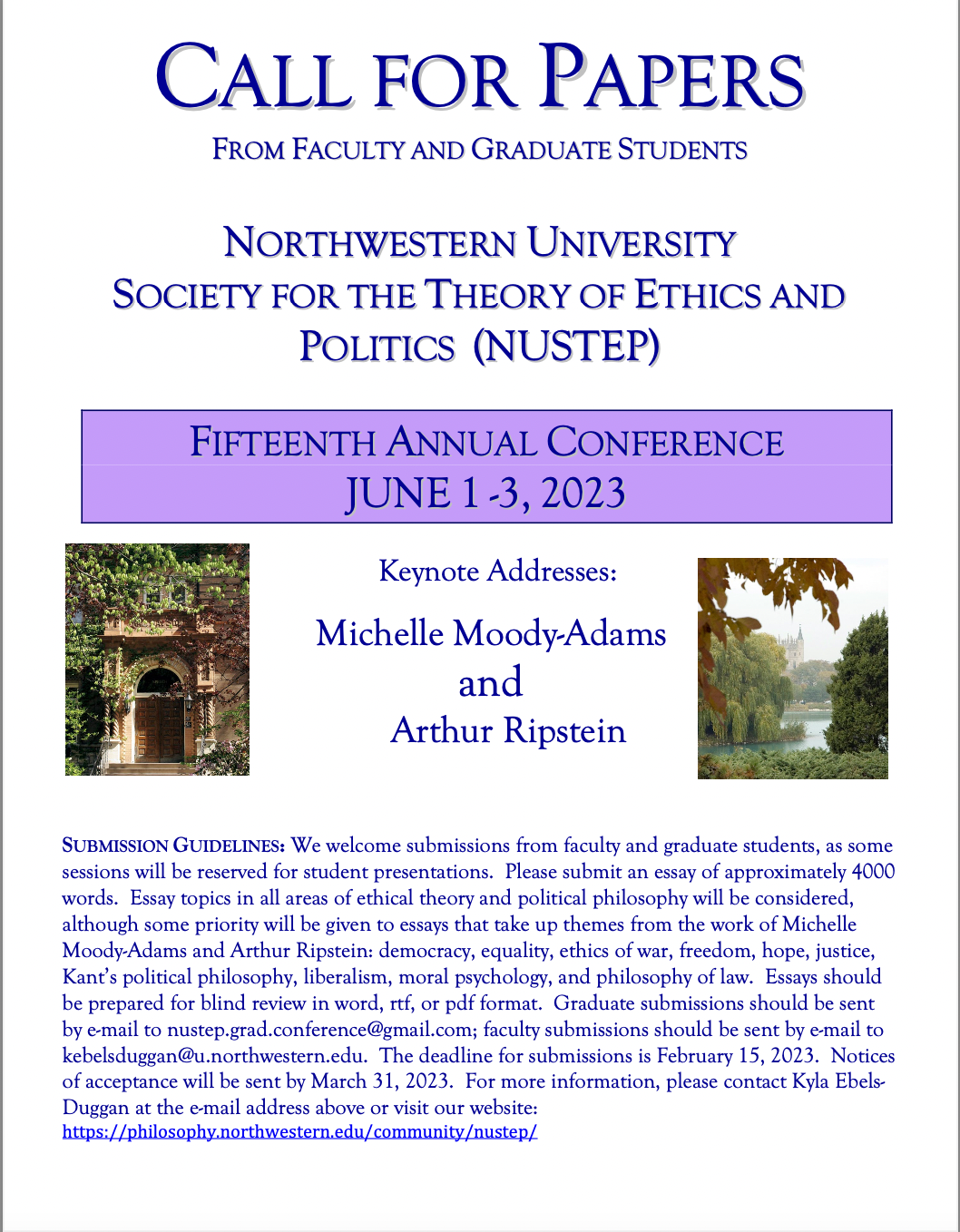 The conference is free and open to the public.
For more information, please contact Kyla Ebels-Duggan: kebelsduggan@u.northwestern.edu

Previous Conferences:
2022 Cora Diamond, Gavin Lawrence
2019 Peter Railton, Sarah Stroud
2018 Niko Kolodny, Sharon Street
2017 Marcia Baron, Kieran Setiya
2016 Nomy Arpaly, Pamela Hieronymi
2015 Frances Kamm, Joseph Raz
2014 Tamar Schapiro, Gary Watson
2013 Talbot Brewer, Sarah Buss
2012 Harry Frankfurt, T.M. Scanlon
2011 Philip Pettit, R. Jay Wallace
2010 Elizabeth Anderson, Christine Korsgaard
2009 Samuel Scheffler, Seana Shiffrin
2008 Susan Wolf, J. David Velleman
2007 Barbara Herman, Stephen Darwall
Back to top