Daniel O'Keefe
B.A. 1993
B.A. 1993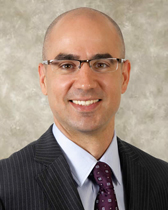 Daniel J. O'Keefe is a Managing Director of Artisan Partners and lead portfolio manager for Artisan's global value mutual fund and co-manager for Artisan's non-U.S. value mutual fund. In 2008, Morningstar (a leading provider of independent investment research) gave Daniel and his partner, David Samra, its prestigious award in recognition of their investment excellence in managing an international stock fund. As of December 2010, the two currently manage in excess of nine billion dollars in global equities.
Prior to joining Artisan, Mr. O'Keefe was an analyst in international equities at Harris Associates LP in Chicago, from July 1997 through May 2002.  Before that, he was an associate in Mergers and Acquisitions at BancAmerica Securities from February 1995 through July 1997.  He started his career as an analyst with Morningstar from June 1993 through February 1995. Mr. O'Keefe graduated Phi Beta Kappa from Northwestern University in 1993 with a degree in Philosophy. 
Daniel O'Keefe was the first Philosophy Alumni Lecturer in Spring 2011.