Why Study Philosophy?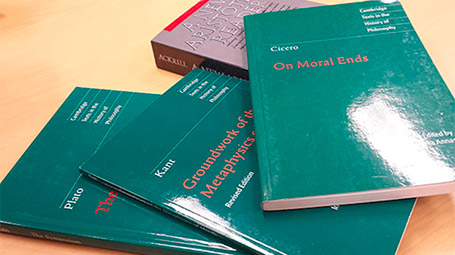 Philosophy develops critical reasoning skills, clarity in thought and language, and competence in synthesizing a good deal of information into a systematic, coherent picture.  These abilities form a core part of the skill set for anyone who hopes to flourish in a complex, diverse, multicultural world.
Program Information & Resources
Events
4:00 PM - 6:00 PM, No Location
More information to come.
4:00 PM - 6:00 PM, No Location
TBD
4:00 PM - 6:00 PM, No Location
TBD
News
Congratulations to Dr. Susan Bencomo, who successfully defended her dissertation "Desire and the Birth of the Self: What Plato's Theory of Eros Can Tell Us About Value"
Congratulations to Dr. Blaze Marpet, who successfully defended his dissertation, "The Value of Wisdom: Philosophical Protreptic in Plato, Vātsyāyana, and Dharmottara."
Congratulations to José Medina on receiving the 2023 Diversity & Inclusion Council Award!
Congratulations to Prof. Jennifer Lackey for winning the Horace Mann Medal at Brown University!
Congratulations to Taylor Rogers for her new tenure-track position in Interdisciplinary Ethics at Governors State University